Table of Contents
Add a header to begin generating the table of contents
Buffalo Cauliflower Bites: Healthier Gameday Snacks
I write this post as SEC football prepares to kickoff this weekend, bringing with it some pre-2020 feelings of comfort and excitement. Post-college, I've developed some habits that come dangerously close to "adulting." Prior to kickoff of the first game each season, I feel the need to check too many items off my list at once: clean the house, daydream about a menu that is too complex to pull off before the first whistle, declutter...just to name a few. Poor Cliff. (Seriously, send him some positive thoughts.) As far as overextending myself on the menu planning, I actually think I've tackled it this year...for the first time in a while, I actually know what I'm making before game day. And it is 100% going to be these buffalo cauliflower bites. They are SO GOOD.
If football season is synonymous to chicken wings and buffalo chicken wraps, I'm sure this seems like a far cry from anything you might be craving. I can assure you it has passed the "Cliff test" in our house, which is all the testimony you should need. 😂 A healthy alternative to some of our favorite fall snacks is never a bad thing, especially when it tastes as delicious as this.
Easy and made even lighter with homemade buffalo sauce
Buffalo sauce is traditionally made with butter, which is *of course* delicious. But, when we are working to eat a little lighter, I make it a mission to find suitable substitutions. I discovered two items: (1) roasted garlic cloves combined with olive oil is a great substitution for butter in this sauce, and (2) adding roasted garlic cloves to Frank's Red Hot Buffalo Sauce makes the buffalo sauce EVEN better. (We are garlic fans, so of course we are a little biased.)
Don't forget some of cauliflower's health benefits
Just in case you need some more convincing to incorporate a little more cauliflower into your diet (I'm not a health expert, so pay attention to your own needs), here are a few of my favorite "positives:" low calorie count, higher in fiber, contains choline and sulforaphane, low carb, and easily accessible.
Tips to roast the perfect cauliflower bites
You don't need to use parchment paper in this recipe, unless you just want some easier cleanup.
"Stir" or gently turn the cauliflower halfway through baking. I use a spatula to shove them around on the pan and will only turn the larger cauliflower florets because I don't have time to turn every single one.
You'll be tempted to add more buffalo sauce to the cauliflower florets while coating them. The goal is to avoid making them soggy. Resist the temptation to keep adding more.
Of course, pick whatever dipping sauce sounds best to you. We love ranch, but feel free to get creative.
Reserve some of the buffalo sauce to dip florets into or LIGHTLY drizzle over the top of the cauliflower after baking.
Serve immediately, or in an airtight container in the refrigerator for up to three days. They won't last that long, but just in case you experience a distraction, these will maintain their consistency for a few days. An added bonus - they are quite good cold, too. 😉
Celebrate the beginning of fall with this serious dose of comforting apple cinnamon skillet cake.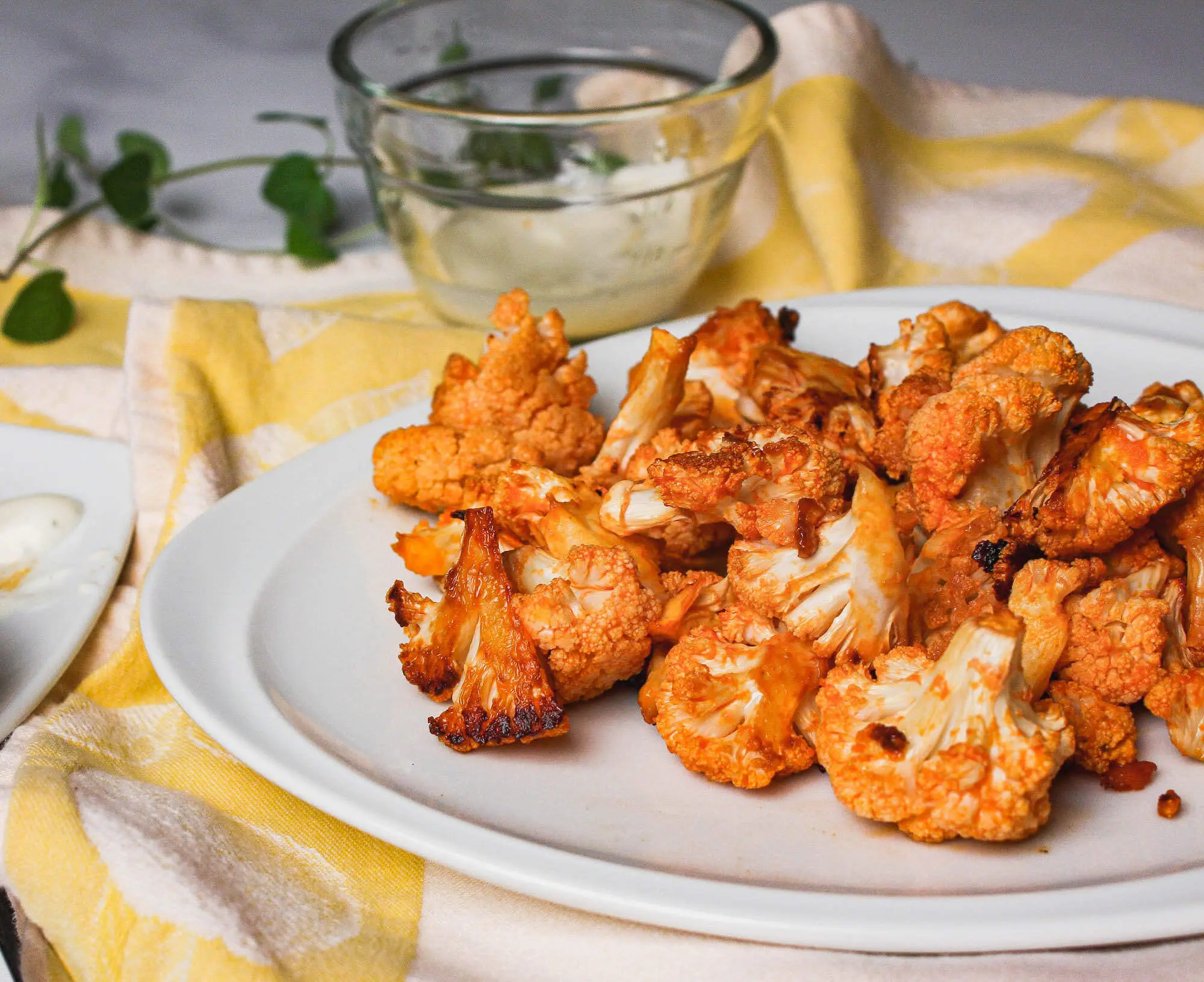 Recipe
Buffalo Cauliflower Bites
Cauliflower just never stops delighting. Tangy buffalo sauce (with a little kick) infuses these buffalo cauliflower bites to perfection and roasting them gives them the ideal consistency for dipping, eating, and repeating.
Ingredients
Lighter Homemade Buffalo Sauce
½

cup

Frank's Red Hot sauce

4 -5

cloves

garlic

⅛

cup

extra virgin olive oil

1

tablespoon

distilled white vinegar

¼

teaspoon

Worcestershire sauce

use a vegan brand for those following a vegan diet

Juice

½ lemon

Pinch

salt

Pinch

garlic powder
Buffalo Cauliflower Bites
1

large head of cauliflower, chopped into florets

1

cup

buffalo sauce

reserve ⅓ cup for dipping post-baking

pinch

coarse sea salt

⅓

cup

ranch or blue cheese dressing

optional
Instructions
Lighter Homemade Buffalo Sauce
Using the back of a spoon, mash the roasted garlic cloves into a paste.

Whisk into the Frank's Red Hot sauce until thoroughly combined and then whisk in remaining ingredients.

Allow to chill in the refrigerator for a few hours or overnight before serving or incorporating into another dish.
Buffalo Cauliflower Bites
In a mixing bowl, add cauliflower florets and ⅔ cup buffalo sauce. Stir to evenly coat the florets.

Spread on baking sheet (parchment paper optional). Sprinkle with coarse sea salt.

Bake for 35 - 40 minutes, stirring halfway through to "turn" the florets - helping them to cook more evenly.

Remove from oven when they are shriveled and slightly charred around the edges.

Serve with the extra ⅓ cup buffalo sauce reserved from earlier and dressing of your choice.
Sparking a bit of creativity...
Would you serve these as-is, or get a little more creative with it? Here are a few ideas I have for future recipes, incorporating these orange cuties, of course:
Make them a little extra crispy around the edges and use them to top a salad.
Incorporate into a wrap with lettuce and optional cheese.
Use as panini contents.
Sprinkle on top of a homemade pizza.
Spear the larger florets with a kabob and alternate with slices of celery.
I'll be honest, I think this list will reappear on the blog again soon. So, I hope you like buffalo and cauliflower. Kidding, kidding. (Not really.)
How do you celebrate the beginning of football season in your house and who is your team? I'd love to hear!
Until next time, friends, cheers to your hearth, health, and happiness. 🥂