2-ingredient peanut butter cookies at-a-glance

easy • vegan • gluten-free
A twist on the classic peanut butter cookie, these 2-ingredient peanut butter cookies still capture the warm, comforting flavor of peanut butter sweetened with a hint of pure maple syrup. This melt-in-your-mouth version will be your new favorite!
Jump to:
A simple peanut butter cookie with only two ingredients is the comfort food treat perfect for a snack or dessert! Made with natural peanut butter and pure maple syrup, this eco-friendly recipe is an easy choice for a cookie recipe that has all the peanut butter flavor you need. Each bite is packed with nutty flavor and a hint of caramelized maple syrup.
If you love peanut butter, this recipe is for you! Keep in mind these cookies are dense, so essentially melt in your mouth when eating. If you like more subtle peanut butter texture and flavor, it is best to stick with a traditional peanut butter cookie recipe.
Love easy desserts, or just love peanut butter? Check out this simple frozen peanut butter dates recipe that is a tasty treat the entire family will enjoy!
❤️ What you'll love about these 2-ingredient peanut butter cookies
These cookies are packed with peanut butter flavor and delicious with each bite! Here are a few of my favorite characteristics for this particular peanut butter cookie recipe:
Flavor. I suggest using the nut butter that works best for you, but peanut butter is such a classic that it pairs well with the caramelized undertones of pure maple syrup. Since it does melt in your mouth, it is best to be a fan of the nut butter flavor before enjoying this cookie. 😉
Vegan and Gluten Free. I love recipes that accommodate multiple diets and this is a great go-to for those following a plant-based or gluten-free meal plan.
Easy. Minimal ingredients equals a happy house, especially when life gets crazy. These can be made in a matter of minutes (if you don't have time to freeze the dough first) and offer the perfect amount of sweet, nutty, and dense...just without much effort! Honestly, the most effort was pressing the glass jar over the cookie dough balls...I'll consider that a "win!"
Pro Tip: Allow the mixed peanut butter and maple syrup to sit in the freezer for about 30 minutes before dividing and creating a cookie shape. This step is optional, since you can make delicious cookies without freezing, but freezing makes the dough a little more manageable. The final flavor is also a little more caramelized.
🥣 Ingredient List
Natural peanut butter. The natural peanut butter with no added ingredients (besides a little salt, in some instances) is preferred for this recipe since these peanut butter cookies have so few ingredients to create the perfect texture. I think chunky peanut butter adds a fun crunch to the cookies, but smooth peanut butter is fine as well.
Pure maple syrup. The maple syrup adds just the perfect amount of sweetness without relying on refined sugar. Plus, the syrup helps thicken the peanut butter and bind the cookies.
🔪 Equipment
Cookie sheet
Measuring spoons
Measuring cups
1 Drinking glass
Medium bowl
Parchment paper
Fork (optional, for pressing cookies)
👩🏽‍🍳 Instructions
Stir the natural peanut butter in the jar to incorporate any oil separation back into the peanut butter.
Add the peanut butter and pure maple syrup to a medium bowl and stir until both ingredients are thoroughly incorporated. The cookie dough should be thicker than the peanut butter (in its original form).
Cover and place in the freezer for 30 minutes. This step is optional, but recommended.
Preheat oven to 350ºF.
Remove from the freezer and create 12 balls of dough by scooping and rolling into a ball shape between your hands.
Place the dough balls on a parchment-lined baking sheet. Since the peanut butter cookies will not spread during baking, you don't need to worry about spacing them too far from one another.
Using a separate piece of parchment paper, place the over the top of the balls and gently press down using the bottom of a drinking glass. Press until the cookies are about ¼ inch thick.
Take a fork and press the tines of the fork into the top of each cookie, in a cross pattern.
Bake in the oven for 10-11 minutes, or until the edges turn a golden brown.
Remove from oven and allow to cool on the parchment paper before enjoying.
Recipe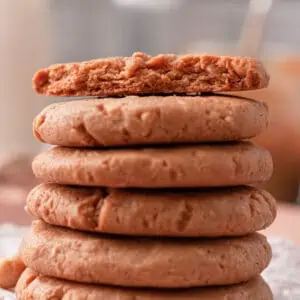 2-Ingredient Peanut Butter Cookies
These delicious 2-ingredient peanut butter cookies are exactly what we need for a healthy twist on this comfort food classic. Packed full of flavor and nutrients, these cookies are vegan, gluten free, oil free, dairy free, and free of refined sugar. You'll love every bite!
Equipment
1 10 x 15-inch cookie sheet

or similar size

1 piece of parchment paper or baking mat

2 measuring cups

1 mixing bowl

1 mixing spoon

1 fork

1 drinking glass
Ingredients
1

cup

natural peanut butter, chunky or smooth

no added ingredients, unless it's salt

¼

cup

pure maple syrup
Instructions
Stir to incorporate any separated oil in your peanut butter before starting the recipe.

In a medium bowl, add peanut butter and pure maple syrup. Stir to combine until evenly incorporated.

Cover and place in the freezer for 25 minutes. This step is optional.

Remove from freezer and divide dough into 12 scoops, using your hands to roll each into uniform balls.

Place the dough on a parchment-lined baking sheet. Using another piece of parchment paper, place the paper over a cookie dough ball and press down on the ball with the bottom of a glass until about ¼-inch thick. Repeat for each cookie.

Using the back of a fork, gently press into the tops of each cookie, using a criss-cross pattern.

Bake for 10 minutes, or until edges turn a light golden brown.

Remove from oven and allow to cool before enjoying.
Notes
The dough is easier to handle if frozen, as instructed. However, the freezing step is optional if you are running low on time. 
Store in an air-tight container at room temperature for up to one week, or freeze for longer storage. 
Important: Please remove your cookies from the oven once the surface develops little cracks and the center has "set" or is no longer "raw." If the cookies are dry, this means the oven reached a higher temperature than indicated on the oven panel, or they were left in for too long. Removing them from the oven before overbaking will create a melt-in-your-mouth texture with a few crumbs. 
Nutrition
Serving:
2
cookies
Calories:
195
kcal
Carbohydrates:
17
g
Protein:
11
g
Fat:
21
g
Saturated Fat:
3
g
Polyunsaturated Fat:
6
g
Monounsaturated Fat:
11
g
Sodium:
120
mg
Potassium:
227
mg
Fiber:
3
g
Sugar:
10
g
Calcium:
10
mg
Iron:
0.6
mg
🧊 Storage Instructions
Keep the 2-ingredient peanut butter cookies at room temperature, in an air tight container for up to 7 days. If you need them to stay fresh longer, you are welcome to freeze for up to 3 months. Thaw before enjoying!
✅ Acceptable Substitutions
Nut butter. Each nut butter will impart a different taste into the cookie, but each variation should create a tasty result! If allergic to nuts, this should work with a nut butter alternative.
Sweetener. This recipe has not been tested with a sweetener alternative, so please note that a different sweetener from maple syrup will alter the texture of these delicate cookies.
🍫 Creative Variations
Add-ins. Though adding more ingredients defeats the purpose of a two-ingredient cookie, feel free to make these your own by adding a small amount of vegan chocolate chips, or chopped nuts – especially if you're using a smooth peanut butter and prefer a little crunch. These cookies would also be nice sprinkled with some coarse sea salt while cooling.
Build a larger dessert. Use two cookies to make a peanut butter cookie ice cream sandwich! Press vegan ice cream between the two cookies. If desired, roll the ice cream in some chopped peanuts or vegan chocolate chips and store in the freezer for a refreshing vegan dessert.
🍪 Tips for the Perfect Cookies
When pressing the cookies with the glass bottom, a top layer of parchment paper covering the dough helps make sure the glass doesn't stick to the cookies.
Don't allow these to overbake in the oven. If they do, the end result will be a more crumbly cookie.
If you like the look of a pressed fork in the top of each cookie, that's great! Be gentle when pressing and just repeat the "fork press" if you need a more pronounced "design."
♻️ Sustainability Profile
🍁 Maple Syrup
If you're a maple syrup fan, you might already be familiar with the threat of climate change on maple syrup trees. As with other crops that will soon only be viable in more northern climates, sugar maple trees are facing a more uncertain future…and a less sweet one, too. Sugar content in trees is expected to decline and become less consistent.
As if we needed another reason to fight climate change.
Maple syrup does still have a "place at the table" in terms of unrefined sugar options. The production of traditional sugar cane is worse for the environment and best avoided. Plus, sugar processed in the United States is typically processed with bone char – making it unsuitable for vegans.
Additionally, maple syrup can be harvested sustainably. It is best to select maple syrup from farms (local, if possible) and organic. Read the label to check certifications, but regardless of certifications, maple syrup is a more sustainable sweetener choice than sugar harvested from sugar cane.
🥜 Peanut butter
Peanut butter is generally considered a sustainable food, but be sure to select peanut butter brands that are vegan and only include peanuts as an ingredient (or peanuts and salt). The more natural the better, especially for this recipe.
If substituting with a different nut butter, select an organic/natural version, if possible.
❓Frequently Asked Questions
Can I use natural peanut butter for cookies?
Yes, natural peanut butter makes a great choice in cookies. If making a traditional peanut butter cookie recipe, natural peanut butter will cause the cookies to spread and achieve a crispier texture. This is due to the higher oil content. Natural peanut butter works well in this 2-ingredient peanut butter cookie recipe because the maple syrup will create the structure that helps the peanut butter keep a cookie shape.
Which peanut butter is best for baking?
Wonderful news! Most peanut butter varieties work well with baked goods! Crunchy versus smooth peanut butter will be a consideration, but is technically your choice. If you decide to make a baked good that requires a smooth or lighter consistency – like a cake – smooth tends to be preferred. Otherwise, more hearty baked goods – like cookies – are a nice opportunity for chunky peanut butter. Natural peanut butter will contain more oil, so monitor the batter or dough carefully and increase your proportion of a dry ingredient, if needed.
Why do you put fork marks on peanut butter cookies?
Fork marks on the tops of peanut butter cookies really do serve a purpose. Pressing the tines of the fork in a criss-cross pattern on top of the cookie helps the more dense ingredients bake evenly. The warm air can access the middle of the cookie (where the pattern is located) and bake the crevices a little more. Otherwise, you risk making the edges too crispy, while the center remains too raw. Plus, a criss-cross shape is a symbolic indication that peanut butter cookies are about to be enjoyed!
😍 You might also like