With a taste as delightful and comforting as your favorite banana bread, these air fryer bananas are delicious and simple to make with just two ingredients!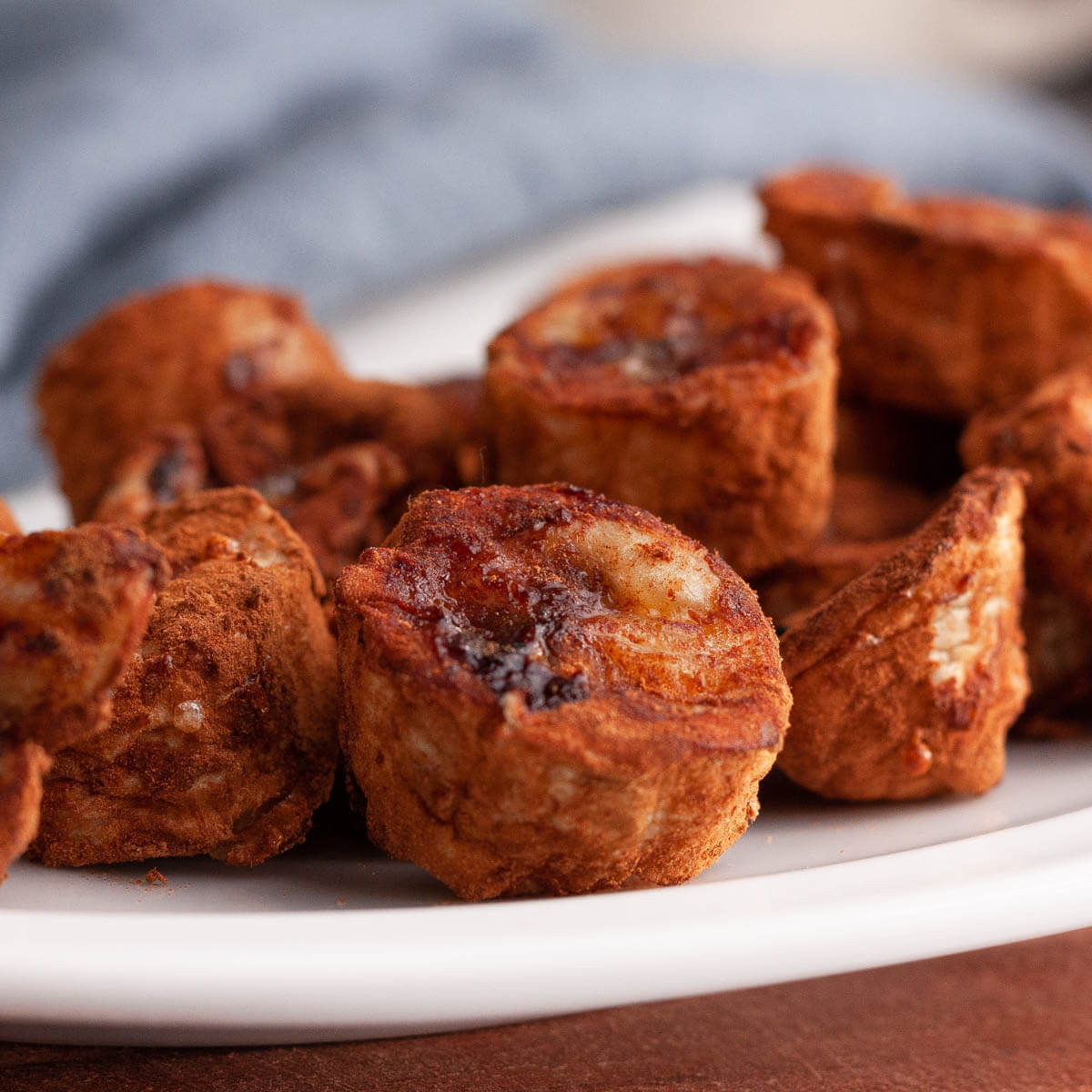 Jump to:
Had I known I could eat bits of banana bread without the guilt, I would have worked on this recipe years ago. So much lost time! But, I'm excited to have stumbled upon a recipe that is truly the epitome of healthy comfort food. The air fryer does all the work, allowing your slices of banana to caramelize in the heat and absorb the natural sweet spiciness of the ground cinnamon coating. I'll still enjoy a slice of banana bread every so often, but if you're interested in a healthy snack that is perfect for a variety of diets, I do hope you'll give this a try!
If you have extra bananas, you'll also love their flavor in these delicious matcha baked oats or banana tahini cookies!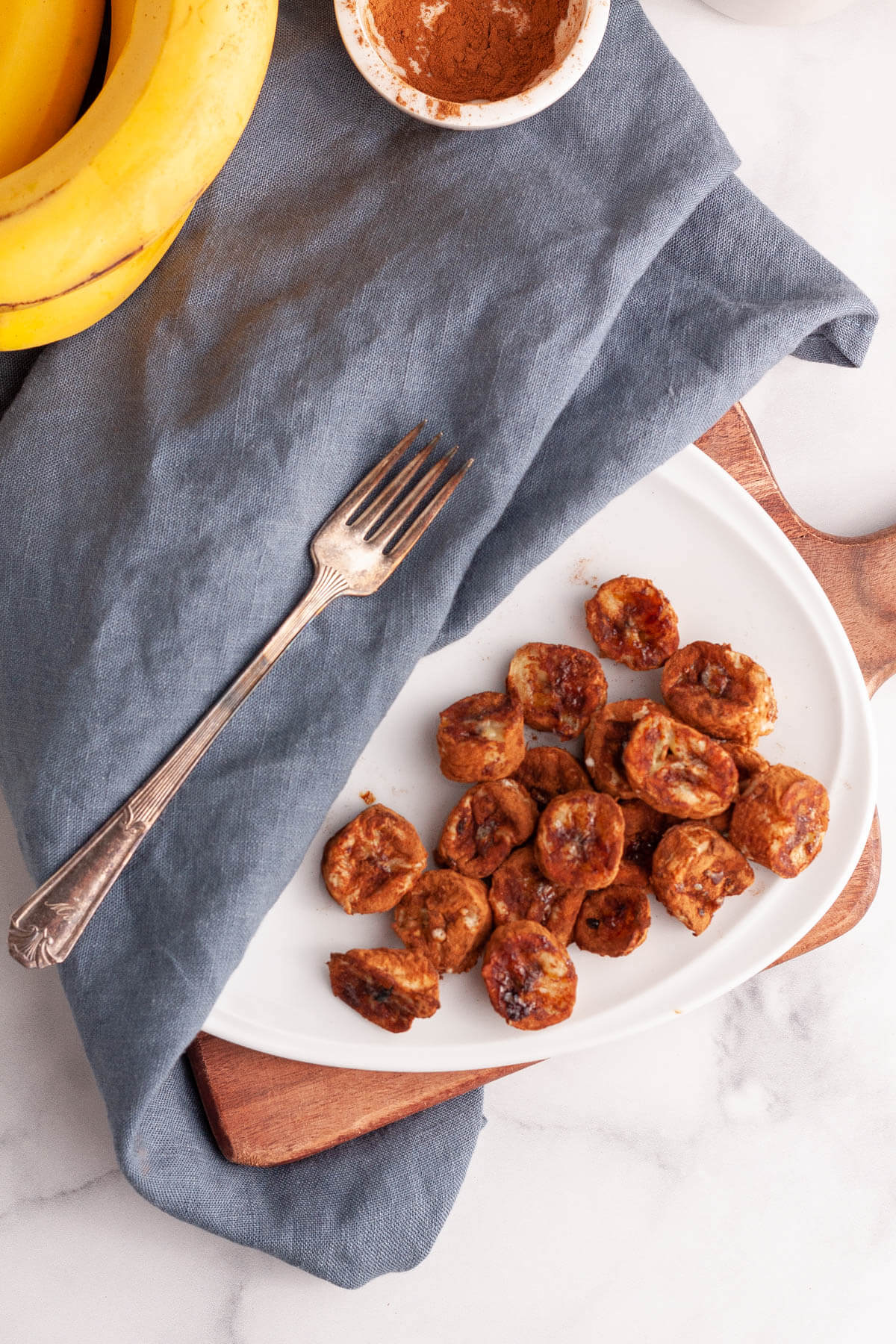 ❤️ What you'll love about these air fryer bananas
Flavor. Harness the natural sweetness of a ripe banana and skip adding any sweeteners. The banana cooks in the air fryer to a beautiful state of caramelization, which is complemented by the ground cinnamon coating each banana slice.
Texture. When you use a ripe banana (that is not bordering on too ripe), the texture of these air fryer bananas will be a little soft, but with enough structure to keep their shape.
Minimal ingredients. This recipe only calls for two ingredients – bananas and ground cinnamon. Anything else is just a variation…but can still be delicious!
Vegan, Gluten Free, Oil Free, Dairy Free, and Sugar Free. Regardless of the ranging diets within your own family unit – or peer group – you can rest assured this recipe is safe for almost everyone to enjoy!
Snack, breakfast, or dessert. Eat these air fried bananas on their own as a snack or healthy dessert, or add to a bowl of vegan yogurt or oatmeal for a fun breakfast with a twist!
No need to flip halfway through frying or add parchment paper. Thanks to the air flow in the air fryer, the bananas do fry evenly during cooking. Therefore, there is no need to stop the process and flip each piece of banana. Additionally, adding parchment paper to the basket is optional. I prefer not to have any parchment paper, allowing the air fryer basket to preheat before adding the banana pieces. *Note: If you prefer to use parchment paper – and like to add it at the preheat stage – weigh it down or wait to add until after preheating. Parchment paper is lightweight and can fly into the heating coils of the air fryer. Be sure to read the instruction manual for your air fryer to understand the best options available to you.
🥣 Ingredient List
Fresh banana. Grab a ripe banana that isn't past its prime. A few brown spots are acceptable, but we really want the fruit pieces to keep their structure in the air fryer.
Ground cinnamon. You can adjust the quantity to add more or less. I'm a big fan of cinnamon, so made sure each banana piece was thoroughly coated, but you can certainly reduce the amount to create just a "hint of cinnamon" on each banana bite.
🔪 Equipment
Measuring spoon
Knife
Cutting board
Tongs
Air Fryer
👩🏽‍🍳 Instructions
Select your bananas and slice them into pieces. Choose ripe bananas. A banana that is too ripe might fall apart during the air frying process, while one that is too "green" might not be sweet enough to enjoy. Slice the bananas into pieces that are ¾-inch thick pieces. It's important to keep the pieces uniform.
Coat the banana pieces in ground cinnamon. Dip each banana slice into a small bowl with ground cinnamon. Use your fingers to coat each banana piece with cinnamon. The coverage does not need to be consistent, so add more or less to each piece depending upon your preference.
Preheat the air fryer to 380ºF and add banana slices. Again, I prefer not to add parchment paper. When preheated, use tongs to add the banana pieces to the basket. You will hear a little sizzle when each piece of fruit touches the heated basket.
Air fry for 9 minutes. Use the tongs to gently remove the slices and serve warm.
Recipe
Air Fryer Bananas
An simple recipe with just two ingredients, these air fryer bananas are spiced with cinnamon and air fried to perfection. Each bite tastes like comforting banana bread with warm, comforting flavors. Enjoy as a snack, healthy dessert, or topping for your favorite vegan breakfast dish!
Equipment
1 air fryer

1 small bowl

1 knife

1 cutting board

1 measuring spoon

1 tongs
Ingredients
2

medium-to-large bananas

1

tablespoon

ground cinnamon
Instructions
Peel and slice the ripe bananas into pieces that are ¾-inch thick. It is best to keep each piece about the same size, so they cook evenly.

2 medium-to-large bananas

In a small bowl, add the ground cinnamon. Using your fingers, coat each banana slice in cinnamon. Apply a thin coating, tapping each piece to remove any excess cinnamon.

2 medium-to-large bananas,

1 tablespoon ground cinnamon

Preheat the air fryer to 380º Fahrenheit. When it is done preheating, use tongs to add the banana pieces to the basket. Keep the pieces separated.

Air fry for 9 minutes. Use tongs to gently remove the slices.
Nutrition
Serving:
5
pieces
Calories:
57
kcal
Carbohydrates:
15
g
Protein:
1
g
Sodium:
1
mg
Potassium:
220
mg
Fiber:
3
g
Sugar:
7
g
Vitamin A:
150
IU
Vitamin C:
6
mg
Calcium:
20
mg
Iron:
0.4
mg
Pro Tip: Unlike a traditional banana bread recipe, don't use a banana that is starting to turn brown. You will find the best flavor and texture comes from a banana that is perfectly ripe.
🧊 Storage Instructions
These air fryer bananas are best when enjoyed immediately. If you find some are left over (not typical!), store in an air tight container in the refrigerator for up to 2 days. Reheat in an air fryer or oven set to 350º Fahrenheit for a few minutes, or until heated through.
🍽 Pairing Suggestions
Use as a topping for steel cut oatmeal or your favorite vegan yogurt.
Build a parfait, alternating layers of air fried banana pieces with vanilla yogurt.
Add warm to a bowl of vegan vanilla ice cream and sprinkle with some chopped nuts or chocolate chips for a special dessert.
♻️ Sustainability Profile
Bananas can pose an issue when it comes to sustainability, mostly because their growth is limited to tropical climates. Therefore, they travel long distances to arrive at their final destination. Additionally, the varieties that are susceptible to disease (which are the varieties most commonly grown for grocery store use) are sprayed with pesticides. In fact, the pesticides are applied in higher amounts due to the thick peel.
To promote more sustainable practices with bananas, buy (or put pressure on your local store to carry) bananas that are organic and fair trade with minimal packaging. Warmer parts of the United States might be able to reimplement farming bananas, especially since these fruits used to be grown in Florida and southern California. This would decrease our reliance on shipping bananas long distances. Plus, these gems only require sunlight to grow and if we plant different varieties, this would mitigate risk of disease and help reduce the need for so much pesticide use.
The ultimate verdict: Bananas are a moderately sustainable fruit. Whenever possible, eat fruits that are organic and locally-grown. In a plant-based, vegan diet, bananas are a great source of nutrients. Since embracing a vegan diet is already beneficial for the environment, responsible banana use should be acceptable. Maintain high standards, and support banana farms that are engaging in organic and fair trade practices.
For more details about bananas and the issues that can surround their environmental impact, I highly recommend this article from One Green Planet.
Ground cinnamon is a sustainable spice; in fact, cinnamon trees start to grow back almost immediately after a cut and cinnamon forests don't require the use of agrochemicals. This article outlines the process of cinnamon harvest as well as their sustainability.
❓ Frequently Asked Questions
How do you make fried bananas at home?
Air frying bananas is a simple and delicious method to fry your bananas at home. If you don't have access to an air fryer, or simply prefer a different method, you can coat the banana pieces in the spices of your choosing and cook in a lightly-oiled skillet over medium heat for a few minutes (flipping once).
Do cooked bananas have more sugar?
No, cooked bananas do not inherently have more sugar. If you add sugar spices or coating to the bananas before cooking, they will absorb the sugar that has been added to them. What is particularly nice about frying bananas is their natural sugars caramelize during the cooking process, creating a flavor slightly sweeter than their raw form.
😍 You might also enjoy...