A fudgy treat that is healthy and easy to make, you'll love how much these triple chocolate chickpea brownie bites pack even more flavor than a traditional brownie recipe. Lovingly made with ingredients that are friendly for vegans, offer a protein punch, and compatible with different diets, these are sure to be a favorite in your house!
Jump to:
Apparently, chickpeas are joining the ranks of cauliflower in the versatility of their use. Who could have ever imagined these powerful little legumes would take over desserts? They have, and I'm so grateful for it. Since I'm always looking for ways to make desserts delicious without the guilt (like these red wine brownies), I created a brownie bite that could pass the test of even the pickiest brownie connoisseur.
❤️ What you'll love about these chickpea brownies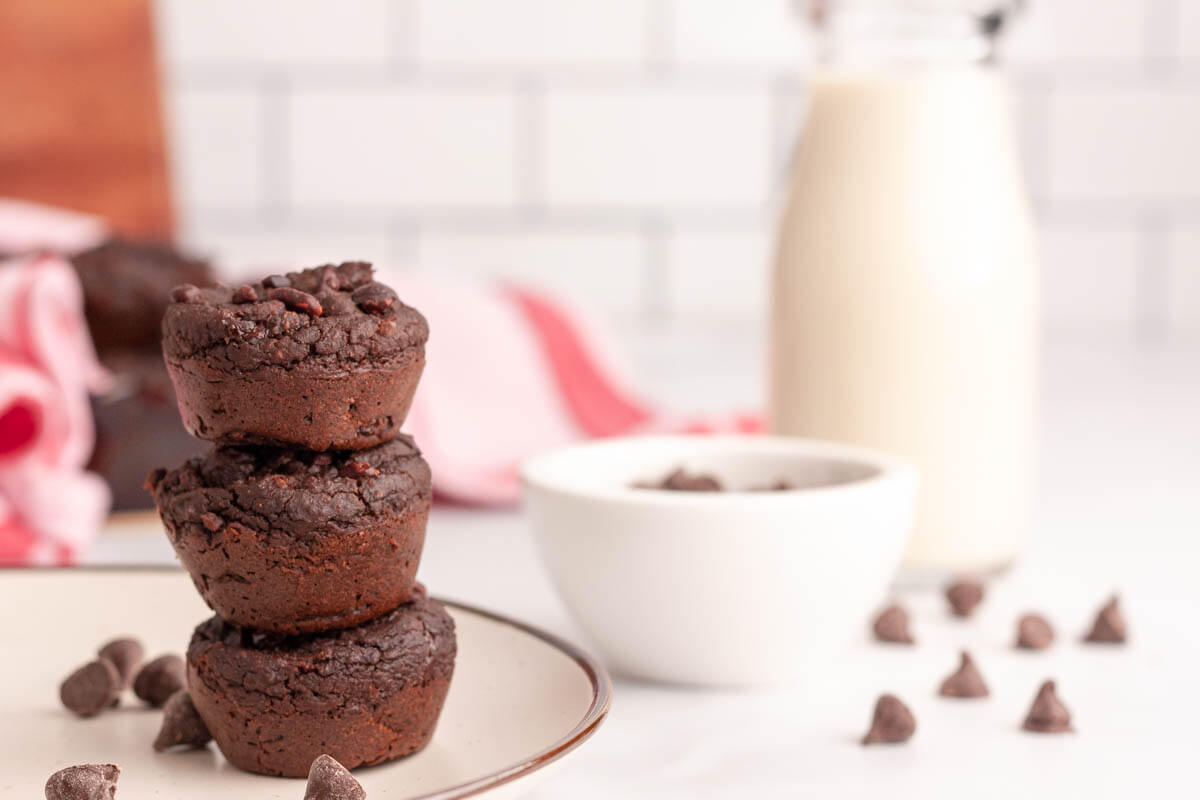 Three times the chocolate. Triple the chocolate means triple the fun, right? These chickpea brownies might be a healthy alternative to Grandma's brownies from childhood, but they are packed with chocolate flavor that makes each bite rich and decadent.
Fudgy texture. Brownies are all about the texture, right? I love a more dense brownie - something that melts in your mouth and is moist enough to let the chocolate flavors shine. Each chickpea brownie bite offers a fudgy brownie consistency with little pops of crunch from the chocolate chips and cacao nibs.
Higher protein. Chickpeas offer a host of benefits, including adding a boost of protein to dishes. Why not include brownie bites in that rotation? If following a plant-based diet, chickpeas are a great source of essential protein that help make this a guilt-free dessert.
Versatile for a variety of diets. This chocolate chickpea brownie bite recipe is flourless, vegan, dairy free, gluten free, and oil free (if using a nut butter with no added oil), making it a great choice for those either staying "health conscious" or following specific dietary guidelines. The chickpeas serve as the foundation for the recipe, vegan chocolate is used throughout, and applesauce replaces the need for oil. Of course, be sure to consult with your physician for specific dietary recommendations. Regardless, these brownie bites are a wonderful dessert that are sure to please all!
Rich flavor. Yes, this sounds obvious - these are brownies after all. This recipe offers several sources of flavor that play well together. The applesauce adds moisture and a healthier hint of sweetness, pure maple syrup offers a plant-based sweetener that creates depth of flavor, and creamy cashew butter creates the ultimate luxurious texture and flavor balance.
Easy to make. This might be the most important characteristic to love about this recipe! The chocolate chickpea brownie bites can be made in the bowl of your food processor and save dishes. The majority of these items can be found in your pantry, reducing the possibility of food waste or needing to make a special trip to the store.
🥣 Ingredient List
A quick note. Since we are using a food processor to handle the work of combining ingredients, we are not worried about separating dry ingredients from wet. To best incorporate the flavors, I add a few at the end of the processing time, which is outlined in the below instructions.
Chickpeas: One 15-ounce can will suffice. If using store-bought canned chickpeas, the sodium amount is up to you. I prefer low sodium so I can control the flavor and add my own salt, if needed. Be sure to rinse and drain the chickpeas, allowing them to dry via air or gently patting with a towel. Save the aquafaba for future use!
Good quality cacao powder: The cacao powder that is used in the recipe serves as the main chocolate flavor. Select a brand that is vegan and minimally processed.
Vegan chocolate chips: In my opinion, you can rarely have too many chocolate chips. I prefer Guittard or Enjoy Life brand chips for this recipe. Select what you love because these offer the second largest pop of chocolate flavor in these brownies.
Flax meal eggs: I use two flax meal eggs, which is the equivalent of 2 tablespoons flax meal and 6 tablespoons water. Be sure to use ground flax seed (also known as meal) and not intact flax seeds mixed with water. The flax meal eggs help add structure to the brownies and usually work best when the flax meal and water has a few moments to rest in the refrigerator before adding to the food processor.
Pure vanilla extract: Vanilla extract is the secret weapon in practically every recipe. I've used both vanilla bean paste and vanilla extract. Be careful if you opt for the vanilla bean paste since some brands do include additives.
Unsweetened applesauce: Organic, unsweetened applesauce is preferred. The applesauce will help highlight the chocolate flavor and its acidity works well with the leavening agents to give these a little more rise.
Pure maple syrup: The use of pure maple syrup means you are incorporating sweetener into your brownies that is less refined than table sugar. Though still best to use in moderation, this is my preferred sweetener in plant-based recipes.
Cacao nibs (optional): Though cacao nibs are what make these triple chocolate chickpea brownie bites, they are completely optional. I love the hint of added crunch they offer when sprinkled on top of the brownies. As I said earlier, triple the chocolate is triple the fun! Those who don't love a hint of bitterness with chocolate - like some children - should omit this ingredient.
Baking powder: I use double-acting baking powder for all recipes, and it serves as the main leavener for these brownies.
Baking soda: Baking soda helps the baking powder by activating when it comes into contact with an acid - in this case, the unsweetened applesauce.
Cashew butter (or nut butter of your choosing): Cashew butter is the ultimate in creamy nut butters and is so versatile in the kitchen! When using a nut butter that is minimally processed, you probably find yourself storing it in the refrigerator (as you should to extend its shelf life!). I suggest bringing the amount you're using for this recipe to room temperature so it mixes well with the other ingredients. If following an oil-free diet, select a cashew - or nut - butter that has no added oil. This might make the batter a little more dry, so be prepared to add a little extra applesauce, maple syrup, or plant-based milk (in small amounts) to help the batter achieve a creamy consistency.
Kosher salt: Salt enhances the flavor and kosher salt is a versatile option to have on hand for almost every dish.
👩🏽‍🍳 Step-by-Step Instructions
Rinse and drain your chickpeas. Allow to air dry, or use a towel to pat dry.
Add chickpeas, cacao powder, flax meal eggs, baking powder, baking soda, salt, applesauce, and pure maple syrup to the bowl of a food processor. Allow to run until thoroughly combined.
Once the mixture has reached a smooth consistency, add your cashew or nut butter and vanilla extract. Process until these are fully incorporated into the chickpea dough. It's completely acceptable to go ahead and sample the "batter" to decide if you need to add a little more syrup, applesauce, or cacao powder.
Remove the blade from the food processor and scrape off the bits of batter still clinging to the blades. Truthfully, this is where I sneak way too much batter for the sake of "taste testing." Don't tell anyone. Gently stir in the chocolate chips. You are welcome to add more chocolate chips, if you would like, but I wouldn't add many more.
Scoop the batter evenly into each cup of your mini muffin tin. If using a non-stick tin, you don't need liner. Sprinkle each cup with cacao nibs, if using. In fact, I find I don't need to coat the tin at all. The brownies pop right out after they've cooled post-oven removal.
Bake at 350 degrees Fahrenheit for 25-30 minutes, or until a toothpick inserted in the center is clean when removed. Allow the brownie bites to cool for 10 minutes before transferring to a wire rack to cool.
Pro Tip: If you don't use cupcake liners in a non-stick muffin tin, you can take a little coconut oil (if not on an oil-free diet) and "grease" the individual cups. I have not taken this step with my muffin tin, but each batch can be different, especially if baked in various atmospheric conditions. To remove, gently take a knife or thin utensil and check to see if the chickpea brownies are sticking. Then, gently grab the top of the brownies and slowly twist and lift.
Recipe
Triple Chocolate Chickpea Brownie Bites (Vegan, Gluten Free)
Fudgy brownie bites that offer three chocolate souces, are easy to make, and practically guilt-free! Made with protein-rich chickpeas, vegan chocolate, and natural sweeteners, these are the brownie bites you'll keep in the permanent rotation!
Equipment
1 mini muffin tin

substitute with 8x8 inch baking pan, or bread loaf pan for traditional brownies
Ingredients
1

15 ounce can

chickpeas

drained and rinsed

¾

cup

vegan semi-sweet chocolate chips

I use the Guittard brand

⅓

cup

unsalted organic cashew butter

may substitute with nut butter of your choosing, choose an oil-free version if avoiding oil (see notes)

¼

cup

pure maple syrup

⅛

cup

cacao nibs

2

tablespoons

unsweetened organic applesauce

5

tablespoons

unsweetened cacao powder

2

teaspoons

pure vanilla extract

1 ½

teaspoons

baking powder

½

teaspoon

baking soda

½

teaspoon

salt

2

flax eggs
Flax Eggs
2

tablespoons

flax seed meal

do not substitute with whole flax seeds

6

tablespoons

water
Instructions
Flax Eggs
Combine flax seed meal and water in a small bowl and stir until evenly distributed. Allow to rest for a few minutes; preferably, while compiling the rest of your ingredients. The flax eggs will gel faster if refrigerated during this time.

6 tablespoons water,

2 tablespoons flax seed meal
Chocolate Chickpea Brownie Bites
Preheat oven to 350 degrees Fahrenheit.

In the bowl of a food processor, add the rinsed and drained chickpeas, cacao powder, pure maple syrup, unsweetened applesauce, flax eggs, baking powder, baking soda, and kosher salt.

1 15 ounce can chickpeas,

¼ cup pure maple syrup,

2 tablespoons unsweetened organic applesauce,

5 tablespoons unsweetened cacao powder,

1 ½ teaspoons baking powder,

½ teaspoon baking soda,

½ teaspoon salt,

2 flax eggs

Process the ingredients until well combined. The batter will look mostly smooth.

Add the cashew butter and pure vanilla extract. Process again until well combined, scraping down the sides of the bowl, if needed. Make sure the food processor is off when scraping the sides.

⅓ cup unsalted organic cashew butter,

2 teaspoons pure vanilla extract

Remove the blade of the processor, scraping off any batter clinging to the blade and set aside. Now, add gently fold in the chocolate chips.

¾ cup vegan semi-sweet chocolate chips

Divide the batter evenly between the mini muffin cups, using a cookie scoop, spoon, or your clean hands. Sprinkle the cacao nibs over the top of the brownie bites. Gently press the nibs into the batter.

Bake for 20-25 minutes, or until a toothpick inserted in the center comes out clean.

After cooling for a few minutes in the tin, gently twist the brownie bites out and transfer them to a cooling rack.

Enjoy immediately, or store in an air-tight container for up to 5 days.
Notes
**If following a no-oil diet, be sure to use a nut butter that has no added oil. If the nut butter is dry, consider adding a little plant-based milk or extra maple syrup until the batter achieves a creamy consistency. 
I used a non-stick mini muffin pan, so did not use liner or even grease. I just gently twist the brownie bites out of the cups after they are cool enough to handle. Adding a liner or coconut oil to the cups before baking is an optional step. 
If you do not have a mini muffin tin, you can either make larger brownie bites in a traditional muffin tin or create square brownies using the same recipe in an 8x8 pan. Adding the batter to a bread loaf pan will create extra thick brownies. Adjusting the container size will alter cooking time, so add a few minutes to the recipe and check regularly for doneness. 
Though you are welcome to use the nut butter of your choice, note that each nut butter will have a slightly different flavor. 
Cacao nibs have a more bitter flavor than chocolate chips, so these triple chocolate chickpea brownie bites have great depth of chocolate flavors. However, children might not prefer the bitter taste and you are welcome to omit the cacao nibs altogether. Instead, consider adding a few more semi-sweet chocolate chips to the top! 
I have successfully made this recipe using vanilla bean paste, but if you are conscious of diet, remember that vanilla bean paste varies by brand and contains added sugar, might not be vegan, etc. 
Nutrition
Serving:
2
brownie bites
Calories:
231
kcal
Carbohydrates:
34
g
Protein:
8
g
Fat:
9
g
Saturated Fat:
3
g
Polyunsaturated Fat:
1
g
Monounsaturated Fat:
1
g
Sodium:
153
mg
Potassium:
364
mg
Fiber:
8
g
Sugar:
12
g
Vitamin C:
50
mg
Calcium:
370
mg
Iron:
150
mg
✨ Tips for the best bites
Allow the ingredients - with the exception of the flax meal eggs - to come to room temperature. If you store your nut butter in the refrigerator, you might find it incorporates into the chickpea brownie batter more evenly (and quickly) if made a little softer first.
I prefer to add the nut butter and pure vanilla extract after processing the other ingredients, to give me a little more insight into how these are incorporating into the batter. This step is optional!
Don't include the chocolate chips or cacao nibs in the food processor, unless your goal is to finely chop them. I like the crunchy chocolate consistency they add to the chickpea brownie bites, so suggest folding the chocolate chips into the batter at the end (but before scooping into the mini muffin tin) and topping with the cacao nibs just before baking. Cacao nibs have a more bitter chocolate taste, so it is usually best to use sparingly.
Not in the mood for brownie bites? You are welcome to add this recipe to an 8x8 baking dish, or a loaf pan for extra thick brownies. Adjust the cooking time by adding 2-3 minute intervals and checking for doneness between intervals. Remember, most ovens aren't calibrated to the exact temperature, so your oven might run a little warmer - or cooler - than mine.
♻️ Sustainability
Chickpeas are a naturally sustainable legume. Incorporating chickpeas into recipes is a choice that favors the environment for a few reasons: chickpeas are a rain-fed crop, their nitrogen storage is released back into the soil after harvest, and their profile might help reduce our need for synthetic farming practices. Learn more in this article about the sustainability of the chickpea.
Chocolate can be tricky, which is why brand awareness and what I like to call conscious selection is so important. If you follow a specific diet (like veganism), you are probably already used to reading labels and mining the ingredient list. Selecting brands that are also committed to sustainable practices will aid in offsetting the carbon footprint from your chocolate purchase. Look for practices that promote compassionate consumption like "Fair Trade," organic, and provide a link to review their sustainable practices. My favorite brand is Guittard (I used their semi-sweet chocolate chips in this recipe) and they offer a multi-faceted approach to their sustainable practices. Visit their sustainability approach to take a peek at what is possible in their industry.
Many of these ingredients are dual-purpose options that can be incorporated into your everyday dishes. The beauty of using pantry staples - especially those that can be purchased in bulk - is that you will eat less processed foods, require less food packaging, and decrease your consumption of overly-processed foods.
❓Frequently Asked Questions
How long can chocolate chickpea brownie bites be stored for future use?
I suggest storing in an airtight container in the refrigerator for up to one week. The refrigeration gives these a continued fudgy texture. We enjoy these both warm and cold.
What are the benefits of using chickpeas in baking?
The density of chickpeas allows them to serve as the foundation of many baked goods. They do need to work with other ingredients for added structure (depending upon the recipe), but not only bring added nutrition to baked treats, they are a sustainable resource and make dessert feel a little less guilty!
Can you taste the chickpeas in the brownies?
Not at all! The sweetness from pure maple syrup, applesauce, pure vanilla extract, and chocolate chips present a rich, fudgy flavor that tastes like delicious brownies.
Interested in more gluten-free and vegan desserts? Try these frozen peanut butter dates that are easy and packed full of delicious flavor - like little candy bars, but better for you!
😍 You might also enjoy...