Table of Contents
Add a header to begin generating the table of contents
These were a delicious treat, and one of my favorite new recipes in recent memory. I've been interested in the power of matcha for quite some time, and though I am used to drinking it as a tea, it was exciting to start experimenting with culinary match powder. The earthy undertones from matcha need a little balance from sweeter ingredients, so I experimented with morsels of white chocolate and maple syrup, complimented with some Truvia sweetener for some layering. The maple syrup mimicked brown sugar, Truvia contributed pure sweetness, and white chocolate is simply in a league of its own. Toss in some toasted pecans and a few other foundational ingredients and you'll have a batch of moist, flavorful matcha muffins ready for your breakfast/snack/dessert table in no time. BONUS: These smell incredible while baking. Let's get to baking!
Why you'll love these matcha muffins
First, they offer the perfect combination of sweet and earthy. Before you question the "earthy" flavor, consider that it is an umami flavor that compliments the other ingredients to perfection.
The muffin consistency is unique. It isn't going to produce the most fluffy crumb, but the muffin texture is still moist and delicate. With the added texture from white chocolate morsels and pecan pieces, the crumb is just the right density.
While baking, the recipe will smell you are making a fresh batch of waffle cones. The maple syrup and vanilla extract really take center stage to create aromas that are warm and sweet.
You only need a few tablespoons of matcha powder, so you can save the rest for any other recipe you choose. Your budget will thank you.
Ingredient List
Base Ingredients
All-purpose flour: No need for anything fancy here. These matcha muffins are moist (a little more dense than a traditional muffin...more about that later), so the all-purpose flour is a great compliment to the rest of the ingredients.
Flax meal eggs: I love how the earthy flavor of flax meal incorporates seamlessly with the other prominent flavors from matcha, maple syrup, and nuts. It's a wonderful option for those avoiding dairy products, or following a vegan diet.
Melted butter: Melt in the microwave and allow to cool slightly before adding to the wet ingredients. If the butter fat separates a bit, you can stir to make a homogenous mixture before incorporating into the recipe. Vegan butter works well with this recipe.
Milk: Since you can make this recipe vegan-friendly with vegan white chocolate, I tend to prefer plant-based milk. This recipe was created with almond milk specifically, but you can use the milk of your choice.
Baking powder: Add a few teaspoons for leavening.
Kosher salt: Salt is used to enhance flavors and a fine-grain salt (as opposed to a coarse sea salt) is best to incorporate evenly in the batter.
Sweeteners
Pure maple syrup: If you don't have maple syrup handy, you are welcome to substitute with brown sugar (light or dark). I consider the maple syrup the matcha muffin secret ingredient - the muffins smell like waffle cones while baking and the caramelized syrup creates the moist crumb packed with bursts of flavor. It's what makes these muffins special. Plus, maple syrup is preferred over other types of granulated sugar since it contains minerals, antioxidants, and a lower glycemic index than regular sugar. Still, it is best to use in moderation, so I divide it with the following ingredient...
Truvia Sweet Complete: This adds sweetness that balances the darker notes of the maple syrup...without the guilt of using regular granulated sugar.
Pure vanilla extract: We can't have a baked good without vanilla extract, can we? The vanilla flavor rounds out the sweet notes and adds a subtle layer of flavor to the muffins.
Flavor and Texture
Pecan pieces: I prefer toasting pecans in a skillet for a few minutes before chopping. Toasting unlocks their flavor and is very easy, since no added oil is needed.
White chocolate morsels: If you are vegan, opt for vegan-friendly white chocolate. The white chocolate flavor is ideal as a balance to the earthy notes of matcha. Reserve about ½ a cup to melt and drizzle over the finished (and cooled) muffins before serving, if you like!
Culinary matcha powder: Matcha powder is divided into either (1) ceremonial grade or (2) culinary grade, with even more categories that fall within culinary matcha. If you prefer - and can afford - ceremonial grade matcha, you are welcome to use it. Otherwise, culinary matcha is the best option. If you are sensitive to matcha variations, just note that the flavor may be impacted by the type of matcha you pick. I used matcha powder from Whole Foods because it was a little easier on the budget.
Pro Tip:
Don't use cheap, paper baking cups with this recipe. The maple syrup creates a caramelized texture that will interact with cheap paper and cause it to stick to the cup. Either use a different material that is non-stick (or sprayed with non-stick cooking spray), or omit using a baking up altogether.
Baking tips for the best matcha muffins
Be careful not to overmix the batter. When adding the final ingredients (nuts, white chocolate morsels, and matcha), gently fold or stir into the dough and scoop/bake as soon as possible once the dough is ready.
Don't use cheap, paper baking cups. Either avoid baking cups altogether (and just spray the muffin tin with nonstick spray), or use higher-quality silicone or parchment-lined baking cups. This will help prevent the liner from sticking to the muffins after they've cooled.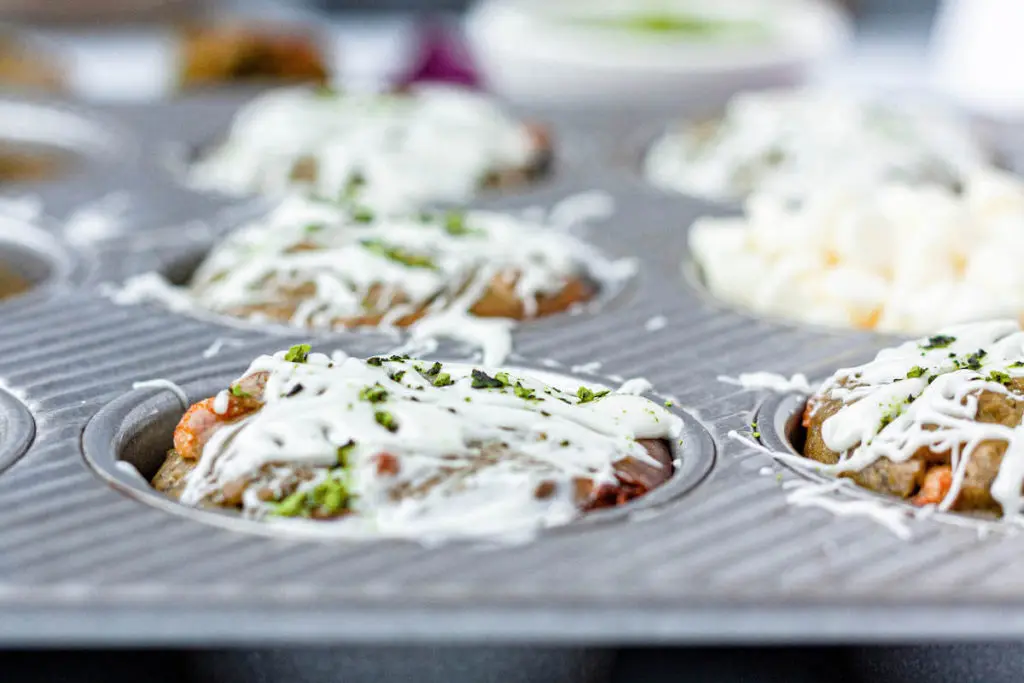 Top with some melted white chocolate and a sprinkle of leftover matcha powder or some toasted pecan pieces for a fun presentation!
Only let the muffins cool in the tin long enough to safely handle them and transfer to a cooling rack.
White Chocolate Matcha Muffin Recipe
Recipe
Matcha Muffins
A moist, tender crumb makes these matcha muffins a wonderful option for a mid-day snack or epicurean dessert. The delicate, yet earthy flavor of matcha is balanced with nutty toasted pecans, and sweetened with Truvia, pure maple syrup, and morsels of white chocolate. Easily make this vegan for those following a plant-based diet!
Ingredients
10

ounces

all-purpose flour

10

ounces

plant-based milk

1½

cups

white chocolate morsels

reserve ½ cup to melt and drizzle over cooled muffins

¾

cup

chopped pecans, lightly toasted

6

ounces

vegan butter, melted

4

ounces

pure maple syrup

3

ounces

Truvia Sweet Complete

2

flax meal eggs

2 tbsp. flax meal, mixed with 6 tablespoon water

2

tablespoons

matcha powder

2

teaspoons

baking powder

1½

teaspoons

kosher salt
Instructions
Preheat oven to 350ºF. If you haven't already done so, mix flax meal and water (to create flax eggs) and set aside to absorb water.

In a medium bowl, whisk together flour, salt, and baking powder until evenly combined.

In a separate bowl, whisk melted butter, maple syrup, milk, flax eggs, and vanilla extract until combined.

Slowly stir in dry mixture, until no lumps of flour are present. Stir in matcha powder until evenly distributed. Gently fold in chopped pecans and white chocolate. Limit stirring or folding, so stop as soon as the ingredients come together evenly.

In a muffin tin sprayed with nonstick cooking spray, or lined with premium (silicone or non-paper) muffin cups, scoop or spoon the batter until ¾ filled.

Bake for 30 minutes, or until a toothpick inserted in the center comes out clean. Allow to cool for a few minutes in the pan before transferring to a cooling rack.

Optional: Melt the reserved ½ cup of white chocolate morsels to drizzle over the top of cooled muffins. Then, sprinkle a little more matcha powder over the white chocolate. Additional chopped nuts would be a great option, too!

Serve or enjoy within a few days (if kept in an airtight container), or freeze for up to 3 months.
Notes
Acceptable substitutions: 
Brown sugar in place of pure maple syrup (add 2 tablespoon of brown sugar to what is called for in the recipe)
Regular eggs instead of flax meal eggs
Vegan white chocolate in place of traditional white chocolate
Vegan butter in place of traditional butter
Granulated sugar in place of Truvia Sweet Complete 
Other nuts in place of pecans. Macadamia nuts would be a fun option!
I would recommend using a non-stick cooking spray in place of baking cups. If you do need to use a baking cup, choose a high-quality silicone cup or non-paper variety. The syrup will caramelize along the edges of cheap paper cups and cause the muffin to stick. 
Nutrition
Serving:
1
muffin
Calories:
335
kcal
Carbohydrates:
38
g
Protein:
2
g
Fat:
22
g
Saturated Fat:
9
g
Sodium:
225
mg
Potassium:
15
mg
Fiber:
3
g
Sugar:
23
g
Frequently Asked Questions
How long will matcha muffins last at room temperature?
Matcha muffins last in an airtight container kept at room temperature for about 5 days.
What substitutions are acceptable?
Vegan butter in place of traditional butter. In fact, I have found the texture of vegan butter to be a little more consistent when melted and great for baking.
Brown sugar in place of pure maple syrup. Typically, more sugar is required when taking the place of maple syrup, so try increasing the sugar by 0.75 ounces, or approximately 1 ½ tablespoons.
Regular eggs in place of flax meal eggs. This is a 1:1 substitution, so you will need 2 eggs.
Regular, granulated sugar in place of Truvia Sweet Complete. This is a 1:1 substitution, so will need 3 ounces.
Any nut of your choosing, instead of pecans. If you want to experiment, I would suggest playing with walnuts or macadamia nuts.
Can you really bake with matcha?
Absolutely! Baking with matcha powder is a great way to incorporate this concentrated green tea into your favorite baked goods. You should note that matcha powder is different from matcha tea. When shopping for matcha, make sure you are purchasing powder as opposed to tea packets or sachéts. Matcha will add a green hue to your baked items, along with a slightly earthy flavor with a hint of bitterness. That may sound odd, but when incorporated with other ingredients, it creates a complex and special finished product. The higher quality the matcha, the less astringent or bitter the flavor.
I want to experiment with my own matcha muffin recipe. What flavors go best with matcha?
First, please let me know what you try and we can compare notes...exciting! Given matcha powder's tendency to have some earthy, bitter notes, it is great to balance it with a hint of sweetness. Try berries during the summer months, honey or maple syrup (like in this recipe), citrus juice and zest, or any chocolate variety of your choosing. For added texture and flavor, nuts or seeds can be a great compliment to matcha. What makes fruit, chocolate, and honey or syrup great is that they won't overwhelm the matcha flavor. It's always best to strike a balance (don't dump an entire bag of white chocolate morsels into the muffin batter), but these are safe choices. Note: Matcha powder is alkaline, so it might turn blueberries green and walnuts blue. Be sure to evenly distribute the matcha powder throughout the muffin batter to help prevent this from causing too much discoloration.
Can I freeze these muffins?
Yes, you can freeze matcha muffins for use at a later date. I would suggest storing in a freezer bag for up to 3 months. Before freezing, make sure they have cooled completely. When ready to eat, allow the muffins to thaw, or gently warm in a microwave until ready to serve.
You might also enjoy...
Until next time, friends, cheers to your hearth, health, and happiness!